Dartmoor hill pony contraceptive jab 'success'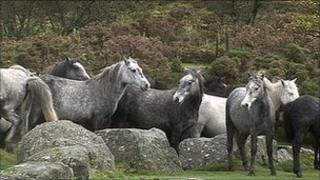 A trial to control the number of Dartmoor hill ponies by giving mares contraceptive injections is being expanded.
The Dartmoor Hill Pony Association said the trial, which started in spring 2012, had worked "really really well".
So far about 40 animals have been injected and the charity is hoping to target 100 more this year.
It said the contraceptive could be used on Exmoor and in the New Forest, where there are also wild pony populations.
The aim of the trial is to improve the management of the hill ponies and reduce the number culled each year because there is no market for them.
'Crucial'
Charlotte Faulkener, from the charity, said: "It's a way forward that we can continue to use our ponies on the commons doing the job they do best, and not having the by-product which is the foals."
She said it was crucial mares were injected now so they did not become pregnant again.
"For the overall management plan to make sure we have less foals, we have to catch them before they're caught by the stallion," Ms Faulkener said.
When the trial started, the Dart Vale Veterinary Group in Devon said it was at the forefront of "equine reproductive technology" and was the first of its kind in the UK.