Totnes schools not promoting MMR 'are neglectful'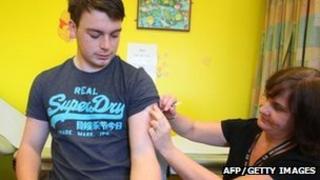 A Devon doctor has said schools which do not actively recommend the measles vaccination to pupils are "neglectful".
Totnes GP Dylan Watkins, from Leatside Surgery, is leading a campaign to get parents to vaccinate their children in order to avoid an outbreak in the town.
Of the 1,021, 10 to 17 year olds at the surgery, 249 have not had an MMR jab.
Public Health England and NHS England are writing to all head teachers asking for their support in the vaccination campaign.
'Discredited claims'
Totnes has one of the lowest rates of immunisation against measles in the country.
In 2011/12, just 70.4% of children in Totnes were immunised by age five, compared to 93.9% of children in nearby Brixham, according to figures by South Devon and Torbay Clinical Commissioning Group.
Leatside Surgery is organising a meeting for health professionals and schools on Friday, to focus on the 10 to 16 year olds that have not been vaccinated.
Mr Watkins said if schools were being "passive" and "really not promoting it" then he thought that was "neglectful on their part".
He said he thought schools had an important role in promoting and informing when it came to public health measures.
'Neutral stance'
Last month, Dr Sarah Wollaston, Conservative MP for Totnes and a former GP, said she believed the reason many parents in Totnes rejected the MMR vaccine was because of claims made by the now-discredited Dr Andrew Wakefield that the jab was linked to autism and bowel disease.
The independent Rudolf Steiner and the town's King Edward VI Community College both said they were "neutral on the question of inoculation and don't actively advocate vaccination".
The Rudolf Steiner said it "would not be sending a representative to the meeting".
It said it did not have a policy on vaccination and, although it would pass on information from health officials, it would not "advise parents to vaccinate children".
King Edward VI Community College said it would be sending a representative to the meeting and "did proactively seek advice from the health service".