Teign Valley Hotel: Building's roof destroyed by fire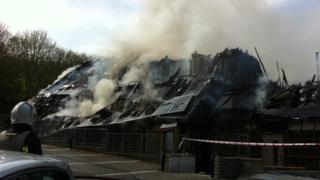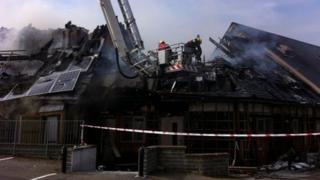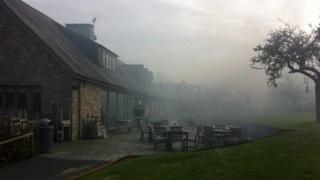 A large blaze has destroyed the roof of a hotel building in Devon.
About 30 firefighters tackled the blaze at the Teign Valley Golf Club and Hotel, near Bovey Tracey.
Devon and Somerset Fire and Rescue Service said the hotel was evacuated after a fire broke out in the roof space of the three storey building.
Fire crews worked to stop the blaze from spreading to the rest of the building. There are no reports of injuries.
The fire is believed to have started in a wooden-framed extension which is used to get from the golf course to the hotel.
Water from a local lake is being used to tackle the blaze at the hotel ,which is on the eastern edge of Dartmoor National Park.
John Chalk from the fire service said: "There were solar panels on the roof which meant in effect we still had a live supply of electricity to the building, so we weren't able to get into the building.
"It meant the fire developed much more rapidly than we would have liked."
A fire service spokesman said an investigation into the cause of the blaze would begin on Wednesday.