South west police rape awareness campaign launched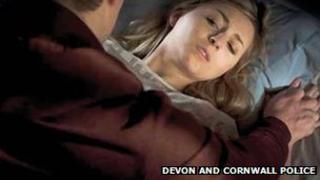 Devon and Cornwall Police have launched a new campaign to raise awareness of rape among teenagers.
It includes a "powerful" cinema advertisement, along with posters and leaflets, a police spokesman said.
Rape support charities in the region have welcomed the new campaign.
The force said it wanted to remind young people about the importance of consent and to "push home the message that no means no".
Police said the central message of the campaign was that sex without consent was rape, with the aim being to "educate both potential victims and potential perpetrators".
In 75% of reported rape cases, the victim had already met their attacker, according to the police's campaign.
'Ruin lives'
DCI Mike West, from the Public Protection Unit at Devon and Cornwall Police, said: "We want to help everyone, but especially young people, to stay safe and for them to be aware of and understand the issues surrounding consent.
"We're trying to make sure people understand that consent must be given prior to sex, otherwise it is rape. Rape can ruin the lives of both victim and perpetrator.
"We also want to let young people know that if they need help or advice about an incident, we have specially trained officers who can guide them."
Maggie Parks from the Women's Rape and Sexual Abuse Centre in Cornwall said: " Young people often feel judged and blamed for their behaviour and hesitate to report crimes because they fear not being believed.
"Campaigns like these are important and positive tools for promoting empathy and healthy relationships between young men and women and preventing sexual violence."