Colebrook floods make parking restrictions 'unenforceable'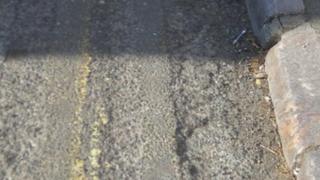 Parking restrictions are not being enforced in a Devon village because floods have "washed away" yellow lines.
Businesses in Colebrook said cars parked "illegally" in the main street for several hours were affecting trade.
But when the issue was raised, Plymouth City Council said restrictions could not be enforced without the correct road markings.
Shop owner Martin Sandu said: "It's rubbish, it wasn't the floods, it's just not a revenue-earner for them."
The council said the yellow lines would be repainted "as soon as possible".
'Ridiculous' situation
Mr Sandu, who runs the Colebrook Chippy, said the lines have been "almost non-existent in places" since he took over the business in 2008.
"I think the council's treating us like idiots," he said.
"It is affecting business, because people can't park - particularly the more elderly residents who come at lunchtime for the OAP specials."
Flooding in July, November and December inundated a number of homes and businesses and damaged the road surface.
In parts of the main street, signs show parking is allowed for an hour - with no return for three hours - while double yellow lines should prohibit parking at any time on other parts of the road.
Resident Sarah Bowman, who has been in temporary accommodation since the December flood, moved back home this week.
"The parking situation is ridiculous, but I'd sooner see the road resurfaced rather than yellow lines repainted," she said.
'Dangerous'
Woodside Animal Sanctuary's charity shop said it was so concerned, it had put up its own sign asking people not to block the main entrance.
It said more cars parking for longer, made an already busy road even more dangerous.
"About three weeks ago a lady bringing some donations parked right at the edge of where the yellow lines should be and her car was hit by a van," Woodside supervisor Jane Salmon said.
Parking is the responsibility of the city council's civil parking enforcement department.
A city council statement said: "We are aware of the issues in Colebrook, currently we legally cannot enforce the parking restrictions but we will be repainting the yellow lines as soon as possible."
Devon and Cornwall Police said it could only intervene if cars were dangerously parked or caused serious obstructions.