Plymouth family in plan for water tank house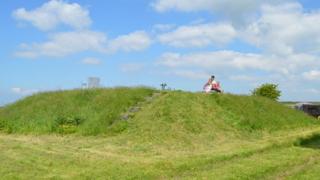 The Jackson family were unable to find a home they could afford in the countryside, so they are going to convert an old underground water tank.
They bought the tank at St Anne's Chapel in Devon for £76,000 last November without planning permission but hope to convert it into a single-storey three-bedroomed home.
The Jacksons are one of a growing band of self-builders who see opportunities in the unpromising-looking concrete tanks.
South West Water (SWW), which sold the tank to the Jacksons, has seen a rise in interest in these subterranean properties, which have become redundant thanks to improved technology.
Mike Jackson, 49, said: "It was called a bucket tank. It was to protect the supply if the mains supply was ruptured.
"Now we have more reliable pipework."
Over the last year SWW has sold seven of these so-called des res (desirable reservoirs), as well as a water treatment works, for residential or holiday use.
Chris Shapland, SWW's property manager, said: "We have noticed a strong recovery in demand for sites for conversion to residential use, such as redundant treatment works.
"The 'novelty' sites, such as small areas of surplus land, always attract strong interest where people are able to invest relatively modest sums for their 'little bit of England'."
The Jacksons' 'little bit of England' has sea views and about a quarter of an acre of land around it.
The only drawback is the big concrete tank in the middle of it, which has to be changed into a home.
All that is visible is a mound, with a couple of air vent pipes and some manhole covers leading down into the tank.
Mr Jackson, who has worked on building sites and now manages the construction of oil fields, is undeterred by the project he will be leading.
'Inspired by conversion'
"When it appeared in the auction catalogue I thought I could make a house out of it," he said.
"We couldn't find anything else in the area because plots usually go for four times what we paid."
After a chat with builder John Bollard, who converted another former water tank nearby at Kingskerswell in Devon, he was convinced.
"I was quite inspired by his conversion," he said. It was a lovely plot with an elevated view, which they all have.
"We will be using a diamond-tipped drill to cut through 22cm-thick concrete for the windows and doors.
"John's walls were 1m thick and he did it with a pneumatic hammer, so it's not monumental."
He and wife Juliette sold their three-bed semi in the suburbs of Plymouth for their grand design and are now living in a rented house.
"We had a great house, it was very comfortable," said Mrs Jackson, 34, as she tends a vegetable plot on the tank site, "but this will be a home."
The plans have won the support of the local parish council but access has to be sorted out to satisfy the local planning authority, before building starts.
Inside the giant tank the echoes bounce off the thick concrete walls which will packed out with about 20cm of insulation.
With solar power and an airtight construction, Mr Jackson is hoping to slash the cost of heating to almost nothing.
Other energy-saving plans include a "heat store" connected to a wood-burning stove.
Mr Jackson reckons it will make a "very cost effective environment".
The tank, which once held 300 cubic metres of water, will still have to be supplied with water from the mains, via its improved pipework.
Mr Jackson hopes to finish the project at a total cost of £250,000 and be mortgage free.
"If it all goes wrong we have a lovely place to pitch a tent," he said.