Reopening of Dartmouth Lower Ferry delayed again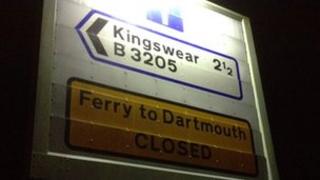 The reopening of a ferry service has been delayed again after slipway repair work fell behind schedule, a local authority has said.
The Dartmouth Lower Ferry, in Devon, has been out of service since January when a £1m refurbishment project began.
South Hams District Council said difficult ground conditions, underwater obstructions and the delay of materials had caused problems for the scheme.
A council spokeswoman said the service would not reopen for "some weeks".
The service, which transports vehicles and foot passengers between Dartmouth and Kingswear, was expected to reopen on 29 March, and then at the end of April.
'Extra flow of traffic'
Kim Ryder, who is the general manager of Bayards Cove Inn, in Dartmouth, said: "We did well at Easter... but we probably have lost trade because the ferry service isn't running."
She added that the work needed to be finished sooner rather than later to get an "extra flow of traffic" to the business.
Councillor Bill Hitchins said: "This complex civil engineering project is essential to the long-term future of the ferry service.
"We understand the frustrations of residents, businesses and visitors in the town and can only apologise for the delay.
"Please be assured that we are doing everything we can to get the ferry back in operation as soon as possible."
The work, which is being funded by the council, is repairing significant corrosion to the crane rails and deterioration to the slipway.
The Dartmouth Higher Ferry, which also connects Dartmouth and Kingswear, is not affected.