Exercise Tiger tragedy remembered in service at Slapton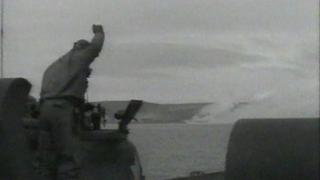 A service has been held to remember hundreds of US servicemen who died off the coast of Devon during a World War II training exercise.
The event marks the anniversary of Exercise Tiger at Slapton Sands on 28 April 1944.
A total of 749 servicemen died when convoys training for the D-Day landings were attacked by German torpedo boats.
Two of the surviving veterans, now in their eighties, flew over from the United States to attend.
It is also 70 years since the mass evacuation of the area around Slapton Sands was ordered in 1943 to allow the D-Day rehearsals to take place.
Organiser John Casson said: "This is the last opportunity whilst there are survivors still alive to commemorate this tragic event, to show respect and remember that it was their sacrifice that contributed to the freedom we enjoy today."
US veteran John Casner Jr, who was a seaman, second class, on one of the boats taking part in Exercise Tiger, said returning to Devon "brings back a lot of memories, the place doesn't look that different."
German attack
Mr Casson said about 1,000 people were expected to attend the service, including the veterans and the families of other servicemen.
The service took place next to a tank, raised from the seabed, which has stood in Torcross since 1984 as a memorial to the men who died.
During the war, US forces requested somewhere in the UK to practice Operation Overlord - the D-Day landings in Normandy.
The area around Slapton Sands in south Devon was chosen because of its similarities to their target landing area.
The UK Government ordered the mass evacuation of local villages, 30,000 acres were cleared and the practice landings began.
But on the night of 28 April, eight US landing ship tanks packed with servicemen were attacked by German E-boats.
Hundreds of soldiers wearing heavy equipment and sailors drowned or froze to death in the water.
Mr Casner Jr told BBC Radio Devon: "We were a perfect target for the E-boats all in a line.
"I was on watch - I saw two torpedoes go under the bow of the ship, then the ship ahead of us blew up.
"Then the E-boats ahead of us started shooting us with machine guns."
He said some of the commanding officers mistook the German attack for part of the exercise and "mistakes" were made.
Exercise Tiger and its tragic outcome were kept secret during the war because there were fears news of it would damage morale.
The truth was revealed in the 1970s when a freedom of information bill was passed in the US.