South Devon Arts Centre to open in Totnes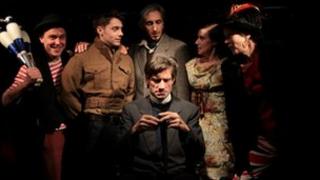 A new arts centre is to open in Devon
The South Devon Arts Centre (SDAC) on the site of a former bike showroom in Totnes is being run by a community not-for-profit group.
The venue will hold 300 people when it opens on 31 May and will host live music, comedy and theatre. It is expected to create 11 jobs.
David Parsley, chairman of SDAC, said it would survive despite hard economic times because it was not reliant on grants for funding.
Mr Parsley said the centre was costing about £60,000 to open and had been funded by private donations and local businesses.
He said: "Between Exeter and Plymouth there isn't a venue of a decent size.
"There's also nothing [in Totnes] for young people to do. We're going to start running kids discos etc.
"We're also keen to encourage local artists... Totnes is one of the most artistic parts of the country."
Patrons of the new centre include playwright Peter Oswald and his wife, poet Alice Oswald, who both live locally.
Musician and television presenter Jools Holland and radio presenter Bob Harris are also patrons.
'Grants disappear'
The arts centre is opening at a time when some other arts venues in the South West are suffering the effects of the economic downturn.
The Brewhouse Theatre in Taunton recently went into administration and Weymouth Pavilion is due to close at the end of May, although it is hoped it will reopen as a community-run venue.
Mr Parsley said his venue would survive because it was not being funded by any grants.
"We're not reliant on the next lot of money to come from somewhere," he said.
"If you rely on grants they disappear in hard times. This is a business approach to a community group."
The group already runs the Studio Lounge venue and Totnes FM community radio station, both of which will move to the new building.