No immediate plans for Devon psychiatric intensive care unit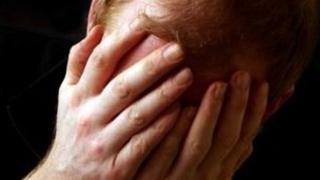 Devon will not have a psychiatric intensive care unit (PICU) for the foreseeable future, health bosses say.
Between five and 10 people require such treatment out of the county at any time, the Devon Partnership Trust said.
Patients' families said it was upsetting for people to be treated in units far away.
The trust said it tried to have PICU patients treated "as closely as possible" including at Bodmin Hospital in Cornwall or a unit in Somerset.
One Devon woman, whose son is in Stevenage in Hertfordshire as there were no beds any closer when he fell ill, said such situations tore families apart.
'Distressing'
The woman, who wished to remain anonymous, said: "There's no way I can make that journey. I would have to go by car and my husband's elderly, he just can't do it.
"My son asks: 'When are you coming up to see me?', and we have to tell him we can't. Then he thinks we don't care, but it's not that at all.
"It's a case of a 460-mile [740km] trip which is too much for us. It would be too much for most people."
Health bosses said trusts could not provide all specialist services.
They added Devon did have a secure psychiatric unit and a number of other services neighbouring areas did not have, including an eating disorders service.
Devon Partnership Trust deputy director of Nursing Vanessa Ford said: "We understand it's distressing for them, their families and their carers, and we do everything we can to treat them as locally as possible.
"We have to make really careful decisions about treatment facilities we are able to provide.
"Intensive care units are extremely expensive to run and we've made the decision not to have one. But that's a decision we review regularly."
The Cornwall Partnership Trust said it was funded for 54 acute inpatient beds in Bodmin and Redruth.
Once those beds were full, its clinical commissioning group funded the next available bed out of the county and facilitated transfer back as soon as a bed was available, it said.