Further rock falls at Oddicombe 'expected'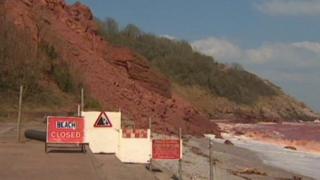 Cliff faces at a Torbay beach are still unstable and more rock falls are expected, a council says.
Thousands of tonnes of earth and stone fell at Oddicombe last week, resulting in a section of beach being closed off.
Torbay Council said visitors should observe marked exclusion zones put up after the last landslip.
But it added a geologist had advised that existing zones were sufficient and there was no risk to beach huts and a beach cafe, which were still open.
The area is famous for its red earth and sandstone. Nearby seawater was turned red as a result of the recent landslip.
The entire beach was closed for several days in 2010 after a landslide which brought down about 5,000 tonnes of sandstone.
Oddicombe is a "Blue Flag" beach and it has also received a Quality Coast award.