Axminster Carpets: Rescued firm reopens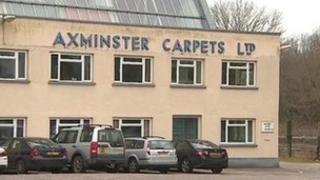 Axminster Carpets has reopened for business after a deal was struck to save the company.
The Devon firm went into administration in February with the loss of 300 out of around 400 jobs.
About 100 posts have been saved after a consortium, led by private investor Stephen Boyd, acquired the business last week as a going concern from administrators Duff and Phelps.
Managers said the move assured the future of a "well respected brand".
'Bit of a buzz'
Axminster Carpets was previously one of the county's biggest private employers.
The company blamed its administration on a sharp increase in raw material prices and the UK's economic difficulties.
Carpet-making operations in Axminster were scaled down and yarn production at Buckfast stopped.
The new company, known as Axminster Carpets (2013) Limited, is focussing on its retail network and the domestic consumer side of the business, managers said.
Carpets would continue to be designed, developed and produced in east Devon, they added.
However, the Buckfast operation is not reopening.
Managing director Josh Dutfield said he was "happy and an excited" that the company had reopened.
He said: "It's been a very difficult and tricky few weeks. But, overall, I'm delighted at where we are, and very much looking forward to the future."
Sales manager Ian McDermid added: "There was a bit of a buzz this morning, which was good, but now the real work begins."
The origins of the luxury carpet maker can be traced back to Thomas Whitty, who began making carpets and rugs in the town in 1755 using what became known as the Axminster method of weaving.
The first carpets were bought by the likes of King George III and Queen Charlotte, who visited the factory.
The Whitty family firm went out of business in the 1830s, but the tradition was revived in the town in 1937, when Harry Dutfield, the son of a Glasgow carpet designer, founded the current company.