Research into River Dart's tidal power potential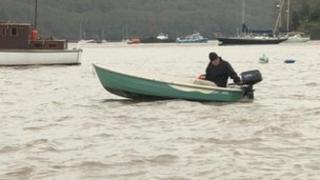 A research project has begun into the tidal power potential of one of Devon's deepest rivers.
Feasibility research is being carried out by Plymouth University and Totnes Renewable Energy Society (TRESOC) into the River Dart at Dittisham.
It will examine the potential effect of putting a turbine on the river bed at a depth of 20m (66ft) to generate electricity.
TRESOC said it would create renewable energy that was "unseen and unheard".
Researchers are assessing the riverbed in the deep Anchor Stone channel, down river from Dittisham.
They are aiming to establish the tidal flow rate at various depths in order to assess the river's potential to generate electricity.
Ian Bright, from Tresoc, said: "It's where all the tidal energy from the waters above Dittisham is concentrated, through that narrow channel.
"We believe that is where the best potential for tidal energy in the Dart is to be found."
The research is being carried out with the consent of the Dart Harbour Board.
Wind turbines
Once it has been completed, researchers will decide which type of turbine would be most suitable.
The area around Dittisham is popular with sailors.
During World War II, the deep water at Dittisham was used to provide safe anchorage for boats preparing for the D-Day Landings.
TRESOC said the depth of the water was such that a turbine on the riverbed would be well below passing vessels.
Daniel Conley, from Plymouth University, said: "This kind of development has very minimal environmental impact and I think that's a big advantage."
TRESOC, which is contributing £1,000 towards the research costs, recently lost a planning application for a community scheme to build two large wind turbines near Totnes.