Arrests made at Plymouth v Exeter football match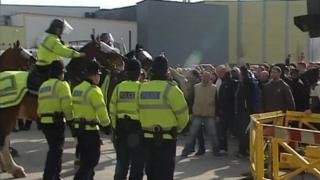 Three people have been arrested and a police officer suffered a minor injury at a Devon football derby.
The match between Plymouth Argyle and Exeter City was attended by about 160 police officers.
More than 20 people were arrested when the teams met in 2010, when violence broke out in the stands during the game at the Home Park stadium.
The match, which was held at the same ground, had the highest risk rating for a football game.
Mounted officers from Avon & Somerset and South Wales Police also attended the match.
A Devon and Cornwall Police spokesman said: "A small minority of individuals attempted to engage in disorder in the vicinity of the ground after the match but were dispersed by police."
Police said the "vast majority of fans were well-behaved".