Joss Stone accused 'had never heard of singer'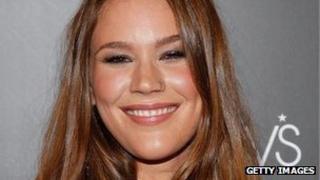 One of the men accused of plotting to murder the singer Joss Stone has told a jury he had never heard of her before he was charged with the crime.
Junior Bradshaw, 32, and Kevin Liverpool, 35 were arrested a few miles from her Devon home in June 2011.
Exeter Crown Court heard Mr Bradshaw, who had previously been treated for schizophrenia, could not remember being arrested.
The pair deny conspiracy to murder, rob and cause grievous bodily harm.
Mr Bradshaw and Mr Liverpool, both of St Stephens Close, Manchester, were arrested in Cullompton, and weapons were found in their car, including a samurai sword, a lock knife and a hammer, the court previously heard.
'Day out'
Mr Bradshaw said he had never heard of Joss Stone before the case.
He told the jury he did not know whose idea it was to drive from Manchester to Devon.
He said he could not remember what he planned to do that day.
Mr Bradshaw told his defence counsel, Martin Meeke QC, that "we were just going on a day out".
Asked by Mr Meeke if the pair had driven from Manchester to Devon to kill the singer, to cause her serious harm or to rob her, Mr Bradshaw replied: "No."
'Series of convictions'
Under cross-examination Simon Morgan QC, prosecuting, asked Mr Bradshaw again what he thought he and Mr Liverpool were doing when they left Manchester in the early hours. Bradshaw replied again: "Just going on a day out."
Mr Morgan replied: "You left at 2am. You know the difference between night and day. So where could you be going at 2am?"
Mr Bradshaw said: "I don't know."
He told the court he had a series of previous convictions, including driving offences and receiving stolen goods.
He said he had previously received treatment for schizophrenia at a hospital in Manchester where he stayed for 10 months.
The court heard Mr Liverpool would not be giving evidence.
Brit award-winning Miss Stone is best known for hits including Super Duper Love and Fell In Love With A Boy, plus her album The Soul Sessions.
She recently took part in a re-recording of The Beatles' first album, Please Please Me, performing the track A Taste of Honey to mark the album's 50th anniversary.
The trial, which is expected to last up to three weeks, continues.