Joss Stone accused 'wrote diary with death notes'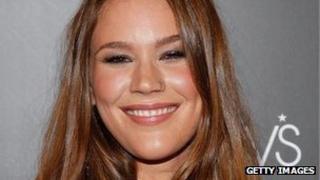 One of the men accused of plotting to murder singer Joss Stone wrote a diary with notes including "death", "rob" and "injure", a court has heard.
Junior Bradshaw, 32, and Kevin Liverpool, 35, were arrested a few miles from her Devon home in June 2011.
In the diary, Mr Liverpool wrote of the need to buy a semi-automatic gun, a silencer, infrared equipment and a "ninja sword", police told the trial.
The pair deny conspiracy to murder, rob and cause grievous bodily harm.
Mr Bradshaw and Mr Liverpool, both of St Stephens Close, Manchester, were arrested in Cullompton, and weapons were found in their car, including a samurai sword, a lock knife and a hammer, Exeter Crown Court heard.
Urban slang
Mr Liverpool's diary was seized by police when they raided his one-bedroom flat in the suburb of Longsight after he had been arrested.
Det Con Katherine Joyner said there were quite a few references to urban slang words, such as "wet" - meaning to repeatedly stab someone until their clothes are soaked with blood - and "popo" - short for police.
He had also written a list, numbered 1, 2 and 3, of "rob", "wet/injure" and "death", she said.
In one excerpt he reminded himself to buy a hooded top, car insurance, a safe and open a bank account, the court heard.
Girls Aloud
Notes included details of the singer's date and place of birth and a biography of her musical career, including the albums she has released.
In the diary, Mr Liverpool referred to Miss Stone, who gave evidence to the court on Tuesday, as "princess".
Other musical stars were listed in his notes, such as Dizzee Rascal, Eminem, Beyonce, Craig David, R Kelly, Chris Brown and Girls Aloud.
Brit award-winning Miss Stone is best known for hits including Super Duper Love and Fell In Love With A Boy, plus her album The Soul Sessions.
She recently took part in a re-recording of The Beatles' first album, Please Please Me, performing the track A Taste of Honey to mark the album's 50th anniversary.
The trial, which is expected to last up to three weeks, continues.