Joss Stone 'unaware of murder plot until arrests'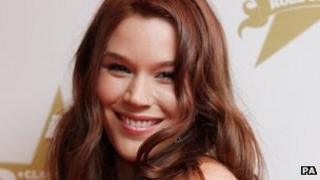 Singer Joss Stone only became aware of an alleged plot to murder her when police visited her after two suspects were arrested, she has told a court.
Junior Bradshaw, 32, and Kevin Liverpool, 35, were arrested a few miles from her Devon home in June 2011.
Miss Stone told Exeter Crown Court: "Apart from someone [police] coming around to say someone is trying to kill me, it was a really nice day."
The men deny conspiracy to murder, rob and cause grievous bodily harm.
The pair, both of St Stephens Close, Manchester, were arrested in Cullompton, and weapons were found in their car, including a samurai sword, a lock knife and a hammer, the court heard.
Alarm not on
Notes suggesting they intended to decapitate the pop star before dumping her body in a river were also found, prosecutors said.
The court heard she was informed by police of the arrests at about noon on 13 June 2011.
She said it was a surprise and she and her security company had received no threats.
The singer said she had been living in Devon for nearly 20 years at that point, her home had an alarm but she did not always turn it on, and she did not always lock her front door.
She said: "I've lived in Devon for a long time and nobody really shuts their door."
But she added she now locked her door and activated her alarm.
Performed for Prince Harry
Prosecutors previously told the jury notes found in the car used by the accused indicated the singer had been targeted because of her connections with members of the Royal Family.
Asked about her royal connections, she said she had "sung for them a couple of times".
The first performance was at the Concert for Diana at Wembley Stadium in 2007.
She said: "After that, there was another charity event for [Prince] Harry.
"I guess they just invited me because they thought it was nice to invite me."
House on TV
The jury heard previously the men had studied a programme she appeared in for MTV's Cribs series, in which stars showed cameras around their homes.
The 10 men and two women were shown part of a programme on Tuesday about a property she owned called Purple Rose House.
The 25-year-old singer told the court the six-minute video was about a previous residence.
Members of her family were also in court in the public gallery while she was testifying.
The Brit award-winning singer is best known for hits including Super Duper Love and Fell In Love With A Boy, plus her album The Soul Sessions.
She recently took part in a re-recording of The Beatles' first album, Please Please Me, performing the track A Taste of Honey to mark the album's 50th anniversary.
The trial, expected to last up to three weeks, continues.