Junior Heffernan: Memorial ride for race death cyclist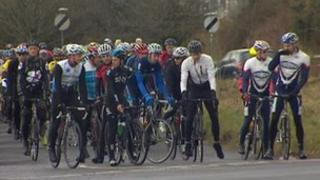 Hundreds of cyclists have taken part in a memorial ride in tribute to a Devon cyclist who died in a crash with a car during a race in South Gloucestershire.
Junior Heffernan, 23, from Yelverton, died during the Severn Bridge Road Race on 3 March.
About 300 riders set off from his home village to Burrator Reservoir, about four miles (6.5 km) away.
His aunt, Julia Hajikakou, who took part, said she was "so proud" of her nephew and at the turnout.
'Still a shock'
Ms Hajikakou said the response had been "overwhelming".
She said: "He's left such a big legacy of love.
"He was such a gentle and caring person, and never any trouble to anybody."
Friend and ride organiser Steve Ferguson said more than 100 people signed up to take part within 24 hours of it being announced on Facebook, and an estimated 300 turned up on Sunday morning.
He said: "It just shows how popular Junior was, and it is a great way for the cycling community to come together.
"His death is still a shock for those of us who knew him. It was very sudden and tragic.
"But it happened during what he loved doing, which makes it a bit easier to accept."
Mr Heffernan - known as "The Heff" - was a keen athlete, who rode for Team Herbalife Leisure Lakes Bikes, and had been a member of Plymouth Leander swimming club and the Plymouth Harriers.
He was on the third lap of the 10-lap, 66-mile (106km) cycle event when he was in a collision with a car travelling in the opposite direction on the B4461.
He was declared dead at the scene. Event organisers said it was an "awful tragedy".
Avon and Somerset Police are investigating the collision.