Joss Stone murder plot thwarted by members of public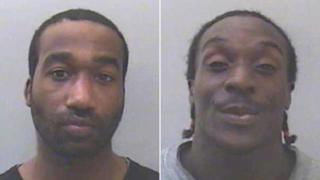 Were the two men accused of plotting to behead singer Joss Stone "deluded incompetents living out a frightening fantasy", as one of their barristers put it, or "real criminals"?
In the end, jurors at Exeter Crown Court decided Kevin Liverpool, 35, and Junior Bradshaw, 32, were guilty of plotting to rob and murder the singer.
Devon and Cornwall Police said there was "no doubt" the two were dangerous men capable of carrying out their mission.
Liverpool and Bradshaw set off from Manchester on their macabre road trip in the early hours of 13 May 2011.
Their destination was Joss Stone's home in rural East Devon.
The men's Fiat Punto was loaded with equipment and weapons, including a samurai sword, a knife and hammers.
There was also a bundle of handwritten notes detailing their plot to murder the international soul singer, dump her body in a river and rob her house.
En-route to the South West the men stopped for petrol at a Gloucestershire service station, speeding off without paying and damaging their car in the process.
They were subsequently spoken to by Gloucestershire Police, who, unaware of the petrol theft or the weapons in the vehicle, left them to continue on their journey.
Liverpool and Bradshaw then spent some time driving around the Devon countryside, getting lost and stopping to ask a postman for directions to the 25-year-old singer's house.
Miss Stone was at home at the time.
At about 07:00 BST the two men came to a halt in Cullompton, seven miles (11km) from their target destination.
According to prosecutors "eagle eyed" residents became suspicious and called the police.
In the boot of the car officers found the samurai sword alongside a length of hosepipe.
In a holdall on the back seat was a lock-knife, hammers, a chisel, gaffer tape and bin bags.
Conspiracy to murder
In the front were balaclavas, gloves, route maps printed off the internet and the men's copious notes.
Det Sgt Martin Sutcliffe, from Devon and Cornwall Police, said: "When you look at the contents of the car I think it gives a very clear picture of their intentions.
"If these men had found their way to the address then it could have been a very serious incident."
Initially, Liverpool and Bradshaw were arrested for the more minor charge of going equipped to steal, it was only when detectives began reading through the pages of notes that they realised the intended crime was far more serious.
The notes implied Miss Stone may have been targeted because of her links with the Royal Family and included phrases such as "rob", "kill" and "Jocelyn R.I.P."
Liverpool and Bradshaw were then charged with conspiracy to murder, conspiracy to commit grievous bodily harm and conspiracy to rob.
The pair have known each other since their schooldays and lived at the same address in Manchester.
According to the police they both have previous criminal records for minor offences.
During the trial the court heard that Bradshaw has a form of schizophrenia which causes him to have incoherent thoughts.
Liverpool chose not to give evidence but in court excerpts of his diary were read out.
They included a list numbered 1, 2 and 3, of "rob", "wet" (to stab) and "death".
Supt Steve Parker, Devon and Cornwall Police's senior investigating officer on the case, said: "I've got no doubt that Liverpool and Bradshaw intended to harm Miss Stone and that, without the vigilance of the public and the good work of our officers, they represented a serious threat to her."
Mr Sutcliffe said the community around Miss Stone's home in East Devon was a "close-knit" one which "looks after its own".