Castle Drogo opens to visitors during £11m refurbishment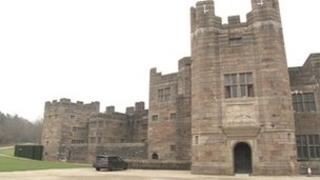 The last castle to be built in England has reopened to visitors while undergoing a major refurbishment.
Castle Drogo, near Exeter in Devon - taken over by the National Trust in 1974 - is having an £11m five-year programme of repairs carried out.
The repairs were needed as the castle had suffered major structural problems for almost 100 years, the trust said.
Managers said new rooms had been opened and visitors could watch staff carrying out the conservation work.
Castle Drogo was designed by Sir Edwin Lutyens for the retail tycoon Julius Drewe.
Because Mr Drewe demanded there were no windowsills or guttering, its walls and windows allowed water to penetrate, the trust said.
'Serious leaks'
Construction began in 1910 and was completed in 1930 but concerns were being raised about leaks as early as 1915.
The National Trust said it had suffered from "serious leaks and water penetration" and the castle would have "become inaccessible" if the conservation work was not carried out.
The work includes roof repairs requiring 2,355 granite blocks weighing 680 tonnes being removed and then returned.
About 900 windows containing more than 13,000 panes were also being refurbished to stop them leaking, and more than 60,000m (65,000 yards) of pointing was being replaced, the trust said.
Two rooms have been newly opened to the public to allow them to watch conservation staff at work.
People would also be able to scale the walls on a scaffolding tower later in the year, the trust said.
Project manager Tim Cambourne, said: "Visitors will get the opportunity to share with us the trials and tribulations over the next five years of one of the largest projects the trust has ever been involved in."
The castle would be open daily until 3 November, managers said.