Cowley Bridge flooded rail line 'improvements needed'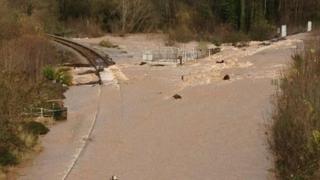 Campaigners are calling for the main railway line connecting the South West to the rest of England to be improved after it was closed because of floods.
In November and December, Cowley Bridge, near Exeter was severely flooded causing several days of train delays and cancelations.
Campaigners, Rail Future, said the culverts at the bridge need to be increased to stop flooding of the line.
Network Rail said it was developing a plan for the region.
Gerard Duddridge, from Rail Future, said: "All that needs to be done is to increase the culverts to release the water into one of channels the other side of the railway."
The group added the alternative line between the city and Yeovil Junction, which was also flooded, needed improvements to provide an alternative route.
A spokesman from Network Rail said it was working with the Environment Agency and the government and would reveal the findings in early April.