Plymouth University wins teaching excellence award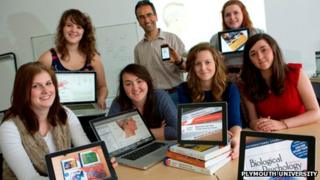 Plymouth University has won a national award for teaching excellence.
The award was in recognition of its "ebooks programme" which provides free digital course books for psychology, science and technology students.
The students can download the all text books on any mobile device, including smart phones, tablets or laptops.
Vice-Chancellor Prof Wendy Purcell, Vice-Chancellor said winning the Guardian University Award was a "great achievement".
Plymouth was also short-listed among a final three in the "Contribution to Local Community" category, for its annual Community Research Awards.
'Financial barriers' removed
"More than 250 higher education institutions entered the Guardian University Awards across 10 different categories, so to win the Teaching Excellence award and be shortlisted in the Community category too is a great achievement for our staff and students," Prof Purcell said.
She said the university was using technology to create an "edgeless university" so students could access learning resources wherever they were.
The ebooks programme, which began in 2011 as a pilot project for the school of psychology, the university said it hopes to have all degree subjects included within the next two years.
Prof Simon Handley, dean of the Faculty of Science and Technology, said ebooks removed all practical and financial barriers.
"Even the best stocked library cannot have room for enough books to cover every student on every course at peak times," he said.
"With ebooks we overcome that problem and at the same time, free up library space for valuable supplementary texts and resources."