Axminster Carpets offloads Devonia tannery firm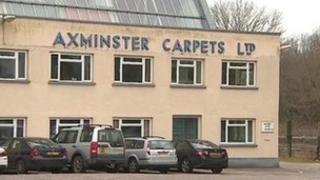 Twenty jobs have been secured in Devon with the sale of a tannery which was part of a troubled carpet firm.
Axminster Carpets, one of Devon's biggest private employers, applied to go into administration last Wednesday.
Devonia sheepskin tannery in Buckfastleigh went into administration and was bought as a going concern by Eastern Counties Leather.
The move does not resolve the future of the Axminster Carpets' weaving plant at nearby Buckfast.
Administrators Duff & Phelps said it was "delighted" to sell Devonia as "a going concern".
It added that Axminster Carpets continued to trade while "all available options" were being pursued by the company.
Luxury carpet maker Axminster, which can trace its beginnings back to 1755, employs about 400 staff at Axminster and Buckfast.