North Devon turbine collapse firm blames fixings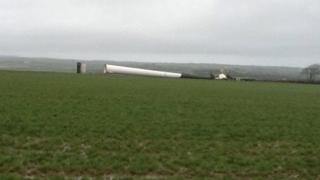 The manufacturer of a wind turbine which collapsed on a Devon farm has blamed the tower's fixings for failing.
Endurance Wind Power said 29 other turbines might have been affected by the problem and it would "correct the installations as quickly as possible".
Dulas UK, the company which erected the turbine at East Ash Farm, Bradworthy, said its investigations into the incident were "ongoing".
The 35m (115ft) turbine collapsed early on 27 January.
Collapses 'rare'
Canadian firm Endurance Wind Power said: "There was no malfunction or abnormality with the turbine or tower.
"There was a problem with the structural grout and the manner in which the tower was fixed to the foundation that affected the durability of the anchor rods resulting in the tower collapse."
A Dulas spokeswoman said: "Dulas is committed to working with its partners to ensure that the affected customers can resume the production of electricity as soon as possible.
"Our investigations into the cause of the incident are ongoing."
Robert Norris, from renewable energy trade association Renewable UK, said: "Incidents like this are rare, but it's important to learn from them and implement any lessons fully and promptly."