HMS Tireless returns to Plymouth after reactor leak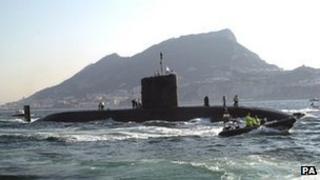 The Devon-based submarine HMS Tireless has returned to Plymouth after a leak in its nuclear reactor.
The Royal Navy said the small leak of coolant was contained within the reactor compartment of the Trafalgar-class hunter-killer vessel.
The navy said that the incident "posed no risk to the public, the environment or the crew".
It added it was not yet known how long the repairs to the 28-year-old vessel would take.
It is the latest in a series of incidents that have affected the submarine.
In 2007, two mechanics died on board when a self-contained oxygen generator exploded while the vessel was under the North Pole.
The vessel was sailing under an ice pack 170 miles (275km) north of Deadhorse, in Prudhoe Bay, Alaska, when the accident happened.
In 2000, a fault was discovered on board which then forced 12 hunter-killer nuclear submarines in the UK's fleet to undergo intensive inspections.
The submarine became stranded in Gibraltar in May of the same year with a leak in pipe work leading from the nuclear reactor system.
It was there for nearly a year while repairs were carried out, putting a strain on relations with Spain, and drawing criticism from environmentalists.
In May 2003, it was taken to Scotland for repairs prompting a Ministry of Defence inquiry after it collided with an object at sea.