Torbay parents warned over school parking practice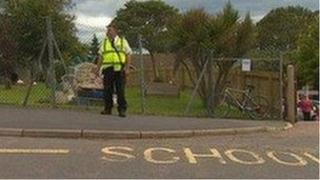 More than 8,500 parents have been sent a letter warning them about illegal parking practices outside 30 Devon primary schools.
Torbay Council sent the letter following complaints and "near misses" involving parents parking on zigzag lines and driving down pavements.
The council said the letter was a warning but enforcements, including £70 fines, would be issued after half-term.
Increased patrols and a camera would also monitor the situation, it added.
'Increased risk'
Councillor Robert Excell said: "Parents should abide by the rules, if they didn't do that [park illegally] there wouldn't be the near misses or accidents that happen around schools."
The council added, while there had been several near misses, there had not been any reported accidents.
Road Safety Officer Bev Hannah said: "The zigzags and double yellow lines are there for a reason.
"They're there to improve the visibility for pedestrians and the school crossing patrol, and when parents park on that area it restricts the visibility and of course there's an increased risk of somebody being hurt."