Drivers warned as Dartmoor pony deaths rise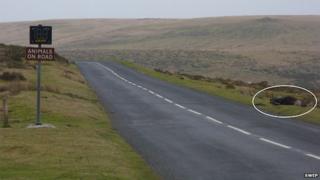 Motorists are being warned by a charity to reduce their speed after a rise in the number of ponies hit and killed by vehicles on Dartmoor.
South West Equine Protection (SWEP) said eight deaths have been reported since the middle of December.
The charity's Adele Cassidy said ponies were attracted to the roads for warmth and to the salt, which is spread in cold weather, for nutrients.
She added that drivers should slow down and be aware of the animals.
Ms Cassidy said that recently a pregnant pony was killed near Princetown which was a double blow for the charity.
SWEP helps moorland horses and ponies on Dartmoor and Bodmin Moor who have been abandoned or have suffered neglect or injury.