Sofa 'mountain' dumped at Breakneck Hole beauty spot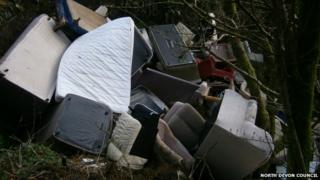 A "mountain" of furniture has been dumped at a local beauty spot in north Devon.
Between 50 and 100 sofas and other items were tipped down a gully known as Breakneck Hole, near Challacombe.
North Devon Council said the bad weather and the location of the fly-tipping has hampered the removal of the furniture.
Councillor Rodney Cann said in such a beautiful part of the world the sheer scale of the fly-tipping was appalling.
"We believe the furniture has been dumped by two or three lorry loads, probably by a commercial operator," he said.
Describing it as a "horrendous", Mr Cann has appealed to anyone with information to contact the council.