Car theft victim Geoffrey Hazeldene's life 'destroyed'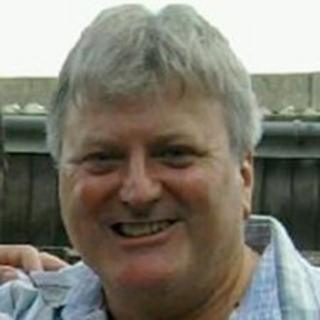 The wife of a man seriously injured as he tried to stop his car being stolen has said she hopes the thief is never allowed to "destroy another life".
Geoffrey Hazeldene, 59, was left with a serious brain injury when he tried to stop Nicholas Cork taking the car in Plymouth in August 2012.
Cork, 32, of Plymouth, admitted causing grievous bodily harm and aggravated vehicle taking at Plymouth Crown Court.
On Thursday, he was jailed for three years and 11 months.
Shirley Hazeldene said: "We have to live with the consequences of what Cork did for the rest of our lives and we hope he is never allowed to destroy another life in this way."
Electrician Mr Hazeldene was thrown from the bonnet of his car as he tried to stop it from being stolen in Melrose Avenue, police said.
He had parked outside a shop to buy a newspaper on his way to work.
He was taken to the city's Derriford Hospital with a fractured skull, a punctured lung and fractured ribs.
'Devastated family'
In court on Wednesday, Cork, of Holman Court, pleaded guilty to causing grievous bodily harm (GBH) without intent, aggravated vehicle taking and driving while disqualified.
Speaking through her lawyers, Thompsons Solicitors, Mrs Hazeldene said her husband clung to the Vauxhall Astra's bonnet for about 50 yards (46m) but fell off, striking his head against the kerb.
He was left with a serious brain injury, she said.
Mrs Hazeldene, who said she had given up work to look after her husband, said that Cork "ruined my husband's life and has devastated our family".
She said: "He drove straight at him and left him for dead.
"Geoffrey's injuries mean he needs care and supervision and is unlikely to fully recover."
Cork was acquitted of a charge of causing GBH with intent.