MoD 'loses' bayonets from Lympstone training base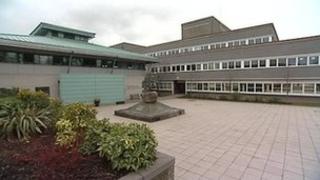 A military training centre in Devon has "lost" more than 8,000 pieces of equipment including 115 bayonets since 2008, the BBC has learned.
A list revealed that 8,312 items, including 13 dummy hand grenades and 2,860 pieces of cutlery, had been lost from the Lympstone Commando Centre.
The Ministry of Defence (MoD) said the public was not in danger.
It added that the term "lost" included misplacements, damaged items or could be the result of poor accounting.
'Not necessarily mislaid'
The list of items, released to the BBC as part of a Freedom of Information request, included 600 magazine assemblies for the SA80 assault rifle - although no bullets were missing.
It also included 470 items of clothing and footwear, 781 towels, seven garden rakes and five snow shovels.
A spokesman for the MoD said "If something is lost it is simply lost to service, not necessarily mislaid" and added that the missing hand grenades were "inert" and not capable of exploding.
"It's likely that they'd been thrown during practice and then couldn't be found later," the spokesman said.
"They are actually made of plastic and not capable of harming anyone."
The MoD also said bayonets were not regarded as weapons by the military although conceded that if the police saw someone walking down the street with one, they would probably be arrested.
Shadow Defence Minister, Alison Seabeck, who is also the MP for Plymouth Moor View in Devon, said: "All this adds up to an incredible amount [of money], many, many millions and that then has a knock-on as to whether we can afford people on our front line.
"We have to do something about it, there have to be better procedures in place to stop it and it has to be tackled nationally, not just at Lympstone."
In 2011 the MoD was accused of losing track of assets worth £6.3bn, including £184m worth of Bowman battlefield radios, by the National Audit Office.