Axminster campaigners 'consider options' after court rejects homes challenge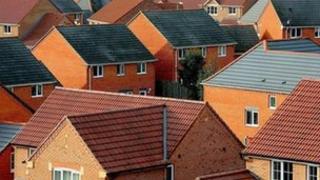 A "disappointed" campaign group is considering its options after it failed in its bid to have planning permission for 400 new homes overturned.
Save our Parkland (SoP) had gone to the High Court over plans for housing and business units at Cloakham Lawns in Axminster.
East Devon District Council said the "much-needed" housing development could now go ahead.
Paul Arnot, from SoP, said the group was seeking further legal advice.
'Right to challenge'
"We're surprised and obviously disappointed by the judgement," he told BBC News.
"There's not much more I can say at this point as we're waiting for advice from our lawyers, then it will be up to the members of the group to decide where we go from here."
The land at Cloakham Lawns is owned by Axminster Carpets Limited, which said the development had been fully supported at every stage.
Under the plans, 40% of the development will be affordable housing.
Councillor Mark Williamson said while he welcomed the judgement, he felt it was right that the democratic process had been followed "because the public have a right to challenge decisions if they feel they are flawed".
"In this case, the council's action has been held up to intense legal scrutiny and has been found to be completely sound," he said.
"That not only vindicates our decision but is good news in the sense that it enables much-needed housing - especially affordable homes - to be built."
SoP had claimed the council was premature in granting permission in 2011 while its existing local plan was in the process of being replaced.
However, His Honour Judge Phillip Sycamore ruled the council had acted correctly and upheld the actions of the planning officer who recommended permission should be granted.
"If there is one principle of planning law more firmly settled than any other, it is that matters of planning judgment are within the exclusive province of the local planning authority or the Secretary of State," the judge added.