Devon drivers warned of ice as gritters treat roads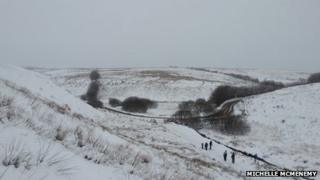 Gritting crews in Devon have been out across the county to reduce the risk of ice on roads.
The Met Office has issued a yellow warning of ice for South West England, which it said is in place until Tuesday night.
Temperatures dropped to -3C (27F) in some parts on Sunday night, BBC Weather said.
Snow is still affecting some areas, with further falls expected in parts of Devon continuing into Tuesday.
'Frustrating' weekend
On Dartmoor, up to 30cm (6ins) of snow fell over the weekend, the national park authority said.
Head ranger Rob Steemson said: "A lot of the roads were closed with signs... people are unfortunately ignoring the signs and abandoning their cars to go sledging.
"The main problem areas include the road from Bovey Tracey to Hay Tor, Tavistock to Princetown and Plymouth to Princetown."
He said it had been a "frustrating" weekend and the road closure signs were there for a reason.
The enhanced content on this page requires Javascript and Flash Player 9
Map Key
Land
Cloud
Lakes, Rivers & Sea
Fog
Light
Heavy
Frost
Light
Heavy
Pressure Fronts
Cold
Warm
Occluded
Rain
Light
Heavy
Extreme
Snow
Light
Heavy
Temperature tab only
Temperature (°C)
More details from BBC Weather