GP Neil Rushton returns from 'lucky' Mount Everest job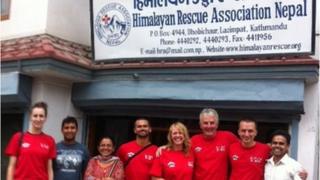 A family doctor from Devon, who spent three months treating people at what is believed to be the highest hospital in the world, said he felt "lucky" to have had the opportunity.
GP Neil Rushton, from Cullompton, was working for the Himalayan Rescue Association in Pheriche, Nepal.
He was based at a centre about 4,270m (14,000ft) above sea level.
His patients included locals who were ill and trekkers making their way up Mount Everest, he said.
Yak dung heat
Dr Rushton, 60, who works for College Surgery Partnership, said he was "not just treating rich western climbers" attempting to scale Everest.
He said: "About 60% of the time we were treating Nepalese - pretty much for free - seeing them, treating their children, stitching them up, looking after fractures, looking at their general health."
He was joined by his partner, Ceri Lloyd, during his sabbatical at the centre, which began last September.
Ms Lloyd said when she first heard about his posting, about two days' trek from Mount Everest's Base Camp, she "thought he was mad".
She added: "Then his next question was: 'Will you come with me?', and the answer was yes.
"It was really exciting. To actually look where Edmund Hillary and all these people climbed was absolutely fantastic."
Dr Rushton said: "You'd wake up at about six in the morning and see the dawn breaking over these huge mountains and think how lucky you were.
"It was only 4C or 5C [39F or 41F], but it was in the sun, so it felt quite warm for several hours.
"But it would dip to -15C [5F] at night and you could find your washing freezing on the line."
Away from work, the pair lived with a Nepalese family.
Burning yak dung in a wood-burning-style stove was the only form of heat at night, Ms Lloyd said.
Dr Rushton said there were some parts of home he did miss while away.
He said: "I did miss green trees, green grass, although it was three months without rain - I didn't miss the rain at all.
"But it's great to be back amongst friends, colleagues and Devon life."