Devon ice warning as roads freeze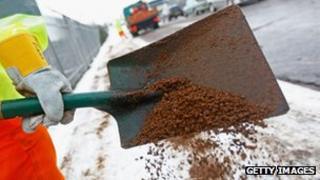 Gritters have been out across Devon after road surface temperatures fell to -1.6C (29F) in parts of the county overnight.
Some light snow was reported in places but ice was considered the main hazard, the Met Office said.
Part of the A39 remained closed in the east of the county, Devon County Council highways control centre added.
In Torbay, gritting would be carried out again on Saturday evening and Sunday morning, Torbay Council said.
'Localised disruption'
Torbay Council tweeted that its teams would be out gritting in the district from 20:00 GMT on Saturday and 05:00 on Sunday.
Met Office forecaster Frank Saunders said although some further slight snowfalls had been likely on Saturday, with 1cm to 2cm (0.3 to 0.6 ins) in a few places, "the focus switches to ice".
He said: "The public should be aware of the risk of localised disruption to transport during this spell of wintry weather."
Chris Cranston, manager of the highways control centre, said: "The worst-hit area remains the Exmoor area, where yesterday we were battling against a lot of snow.
"We still have the A39 closed between Lynton and County Gate.
"Up on the moors, there will be a lot of difficulty travelling."
The Met Office has issued a yellow warning of ice for South West England until 11:00 GMT on Sunday.
First Bus said its services in the area were not experiencing any disruptions.
The enhanced content on this page requires Javascript and Flash Player 9
Map Key
Land
Cloud
Lakes, Rivers & Sea
Fog
Light
Heavy
Frost
Light
Heavy
Pressure Fronts
Cold
Warm
Occluded
Rain
Light
Heavy
Extreme
Snow
Light
Heavy
Temperature tab only
Temperature (°C)
More details from BBC Weather