Dame Hannahs school 'made changes' after pupil Bethany Clemens' death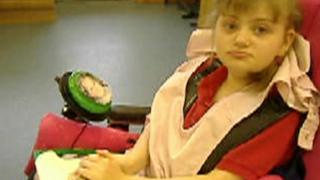 A special school in Devon has made a series of changes since the death of a 14-year-old severely disabled girl in its care, an inquest has been told.
Bethany Clemens suffered a Sudden Unexplained Death in Epilepsy (SUDEP) in December 2011 when she boarded at Dame Hannah Rogers School in Ivybridge.
The school now has a mobile resuscitation trolley and staff have been alerted to the condition.
Plymouth Coroner Ian Arrow ruled Bethany died of natural causes.
Risk reduction
SUDEP is where a person with epilepsy dies suddenly and no other cause of death is found. Its cause is unknown.
Bethany, from Cornwall, who was diagnosed with RETT syndrome when she was a year old, had profound mental and physical disabilities, including intractable epilepsy which caused frequent seizures.
Guidelines from the National Institute for Health and Clinical Education (NICE) state that information about SUDEP should be given to people with epilepsy, their families and carers, and discussions should be held on how to reduce the risk.
The inquest at the Council House in Plymouth was told the risk of SUDEP had never been discussed with Bethany's mother, Emma Oakes.
Giving evidence, Consultant Paediatrician Dr Carolyn Adcock from Plymouth Hospitals NHS Trust, said she accepted the risk of SUDEP should have been made clear to the family.
Dame Hannahs said parents are now invited to the school to see and discuss their child's individual care plan. It also said it liaises with other trusts to standardise care.
After the inquest, the school issued a statement, describing Bethany as a "lovely and delightful young lady" whom everyone missed.
"It is always extremely distressing when a child sadly dies and our hearts go out to Bethany's family," the statement said.
"We care for many very vulnerable children with complex and life limiting conditions for which we provide a high standard of support and opportunities."
Frances Wright, the solicitor representing Bethany's family, said the family was pleased changes have now been implemented, but it was a "terrible tragedy" that it should take a young girl's death for this to be achieved.