Cadover Bridge beauty spot: Travellers set up illegal camp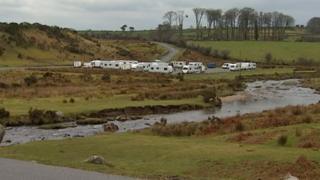 A group of travellers has set up an illegal camp on a well-known beauty spot on Dartmoor.
The 50 travellers moved on to Cadover Bridge on Thursday after they had been evicted from a car park in the centre of Teignmouth.
Cadover Bridge is within Dartmoor National Park, but the land is owned by the National Trust.
The trust has applied for a court order to move the travellers, but they claim they intend to return to Ireland.
Gus Fergusson, the National Trust's head ranger, said the trust had a duty to protect what was a "very fragile landscape".
Fridges and furniture
He said the car park at Cadover was not suitable for the travellers as it had no appropriate facilities.
"This is a public space and we don't allow camping overnight because there are no facilities, by way of toilets," said.
Dartmoor National Park Authority said another major concern was the mess left behind by illegal campers.
"Every year we have a problem with travellers arriving at various locations across the park," head ranger Robert Steemson said.
"In the past we've had everything from small mini-fridges to bits of furniture and human excrement."
The travellers at Cadover Bridge have declined to comment.