New lease of life for Devon clay quarry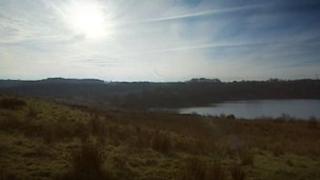 An old china clay quarry in Devon is being turned into a nature reserve by a local wildlife charity.
The quarry, at the end of the Tarka Trail in north Devon, has been bought by the Devon Wildlife Trust for more than £500,000.
It will become the charity's biggest nature reserve in the county which they hope will act as a good outdoor classroom for school children.
The old quarry at Meeth covers 150 hectares of land, including lakes.
The quarry is next to the Ashmoor Pit which had been dug during the Foot and Mouth outbreak in 2001.
At the time it had been feared large numbers of dead livestock would be buried there but it was not used.
The charity has already transformed the disused pit into a nature conservation area.
The quarry has been bought from the china clay company Imerys.
Gary Staddon, from Imerys, said: "It's great that we can hand it over to the trust and they can take it forward as a nature conservation area."
The quarry near Meeth began its life at the end of World War II. The Wildlife Trust said once it had been made safe for the public, it should become an important attraction in north Devon.