TE Connectivity closing with 250 Bideford jobs lost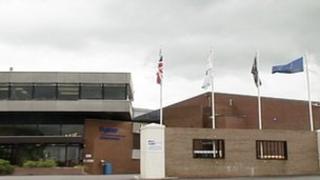 An electronics manufacturer is closing its north Devon operation, with the loss of 250 jobs.
TE Connectivity in Bideford, formally known as Tyco Electronics, said production at the site would transfer to "other TE facilities".
A 90-day consultation with the workforce has begun and the Bideford operation is expected to close by the end of 2013.
The American company said its decision was made "to maximise efficiencies".
The company has been based in Bideford for nearly 50 years.
'Devastating news'
A statement from the company said: "We recognise the impact this decision will have on our employees, and if the proposed action takes place, we will provide comprehensive outplacement support and a redundancy package.
Tim Jones, the chairman of Devon and Cornwall Business Council, described the announcement as a "huge blow" to the local economy.
"It's devastating news not only for the workers, but for the Bideford economy," he said.
"This is a company that's been in existence and supporting a wide range of local activities both within the company and indirectly since 1964."
The loss of such a company would be "extremely difficult to recover from," Mr Jones added.
Terry Martin, who has worked for the company for 25 years, said he was totally shocked when the plant manager made the announcement to the workforce.
"It came totally out the blue," the 44-year-old machine setter told BBC News.
"We were quite quiet last year, but it's been really busy since Christmas, so we just didn't expect this at all."
He said with no work in the area, he may have to consider moving away from his home in Bideford to look for alternative employment.
"It's a blow for sure, but for the fathers and sons who work here - and I can think of four or five off the top of my head, plus some husbands and wives - its a double blow," he said.