Torbay Blue Flag beach status 'threatened by cuts'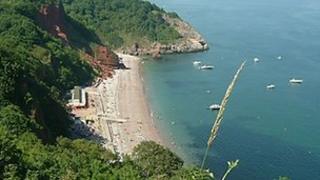 Businesses in Torbay are furious the resort could lose its coveted Blue Flag status because of council cuts.
The council is looking at cutting back on beach staff including first aid cover, meaning it would not be able to fulfil its Blue Flag requirements.
The borough - which currently has five Blue Flag beaches demonstrating good water quality, safety and services - is looking to make £10m worth of cuts.
Tourism businesses say the Blue Flag status is a "prized possession".
The beaches which currently have blue Flag Status are Oddicombe, Meadfoot, Paignton Sands, Broadsands and Breakwater.
'Absolutely disgraceful'
Gayle Bettesworth, who runs a company at Oddicombe beach, said business owners in the area are worried the beaches will no longer be fully managed during the summer, with the season reduced to the six weeks of the school holiday.
She said: "It's absolutely disgraceful. They want to make us an all year round destination and they're taking away one of our prized possessions."
"They're talking about July and August. Most of our nice weather nowadays is in May and June when they won't have any first aiders, anyone cleaning the promenade."
Adele Farrell, who also works at Oddicombe Beach said: "Businesses will definitely start to diminish. People are not going to come and use the beaches if there are no facilities here."
Blue Flags are awarded annually on more than 30 criteria including safety and services.
In a statement Torbay Council said: "The council needs to find up to £10m from next year's budget through a mixture of service savings, further efficiencies and increases in income."
The plans will be discussed by the full council in February.