Buoys used to create exclusion zone around Torbay ship wreck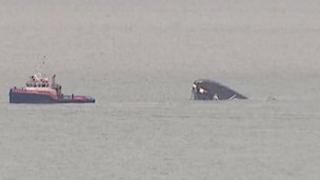 Buoys have been placed around the wreck of a ship which sank off the Devon coast to mark an exclusion zone.
The decommissioned MV Emsstrom was being towed when it collided with the tug the Christos XXII and sank off Torbay on Monday.
Talks are under way about whether to leave the wreck on the seabed, near a shipping lane, or to raise it.
The Christos was towed to Portland for repairs for a 40cm (16ins) gash in its hull following the collision.
Crew rescue
Brixham coastguard said a 500m (546 yards) restriction zone had been put in place while it was decided what to do with the wreck.
Divers have been warned the wreck is dangerous and should not be explored.
Capt Paul Labistour, Brixham harbourmaster, said: "I would ask the wider public not to approach the wreck area and over the next couple of days you'll see more and more information coming out from the Torbay Harbour Authority."
The eight-strong crew of the tug Christos XXII had to be rescued after the collision.
The incident started at about 21:30 GMT on Sunday when the 70m (230ft) tug slowed to check a problem with the tow.