Grand Western Canal repairs to cost £3m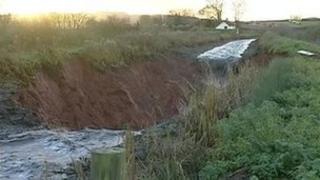 A section of the Grand Western Canal in Devon which collapsed during torrential downpours last year is to be repaired by the county council at a cost of £3m.
The canal wall, at Halberton near Tiverton, collapsed in November.
Twenty nearby homes had to be evacuated, roads were closed and thousands of fish spilled into neighbouring fields.
It is hoped the work will be completed in time for the 200th anniversary of the opening of the canal next year.
Tourist attraction
Council leader John Hart said the money would be included in the authority's capital budget.
"This is an historic feature with many listed structures along its length.
"It is a major tourist attraction and vital to Mid Devon's economy and to Devon as a whole," Mr Hart said.
Des Hannon, who chairs the canal's joint advisory committee, said: "I am delighted to welcome this sensible decision by the county council.
"Local people in my area greatly value the Grand Western Canal and their actions over the last few weeks demonstrate that."
The Halberton stretch of the canal was opened in 1814.
It closed as a commercial waterway in 1925 but since 1971 it has been restored as a country park and forms part of the West Country Way cycle route which runs from Padstow in Cornwall to Bristol.
Passenger rides on a horse-drawn boat have made the canal a popular tourist attraction in the summer months.