Flood and ice warnings issued for south-west England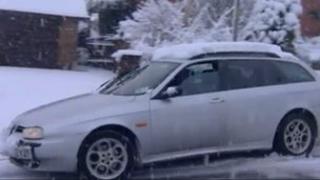 People in south-west England have been warned to be prepare for flooding and ice on Saturday and Sunday.
The Environment Agency has issued eight flood warning and numerous alerts for rivers and coastal areas in Devon, Somerset and Dorset.
The Met Office has forecast rain, sleet and snow and issued a yellow warning for ice across the entire region.
It said rapidly falling temperatures could result in icy surfaces, raising the risk of disruption to travel.
Temperatures are expected to fall to near or below zero on Sunday.
Nearly an inch (2cm) of snow could lie on some higher-level roads, but the risk of ice was expected to present the main problem, it said.