Donations for cash-strapped blood delivery bikers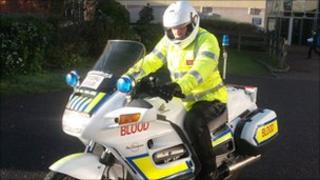 A voluntary motorcycle group which transports blood to hospitals has been "overwhelmed" by donations.
The Devon Freewheelers, which is called out an average of 16 times a night, said last week its volunteer riders had been paying for their own fuel because of a shortage of funds.
The nine motorbikes each cost a total of about £15,000 a year to run.
Since the charity's plight was highlighted it said it had received more than £8,000.
Wet weather in November and December stopped several fundraising events, which had seriously affected operating funds.
Added to which, one of the volunteer bikers was involved in a crash in north Devon the week before Christmas.
The rider was not seriously injured, but his bike was written off and his protective clothing was damaged.
Devon Freewheelers was set up in 2008 by Daniel Lavery after his wife went into premature labour and needed a blood transfusion.
It has 52 registered volunteers, 15 of whom are on standby each night.
Last week Mr Lavery said the charity was "literally surviving hand to mouth".
After hearing of the charity's plight, one local company has offered to pay for a new helmet for the rider involved in the crash.
A restaurant in Honiton has offered to donate its takings from its thee-course Sunday lunch and there have been a number of anonymous donations.
'Life-changing difference'
A single donation of £2,000 has allowed the charity to re-issue fuel cards for its marked response bikes and refund some money to the out-of-pocket volunteers.
Invitations to attend a number of events in the summer, including the Okehampton Show and the Devon County Show, have also been sent to the charity, so it can raise awareness about the service it offers.
"The response has been unbelievable and overwhelming - my inbox is full with 1,000 emails that I've still to open," Mr Lavery said.
"One person has set up a standing order for £2 a month - and 50p a week can make a life-changing difference.
"To raise more than £8,000 in a matter of days is just amazing... and I just want to thank absolutely everyone who's come forward."
As well as delivering out-of-hours blood stocks to NHS trusts in the county, the charity transports organs and breast milk for premature babies.
It also has a 4x4 emergency vehicle for extreme weather conditions.