Paignton Zoo giraffe's Chessington move aided by special trailer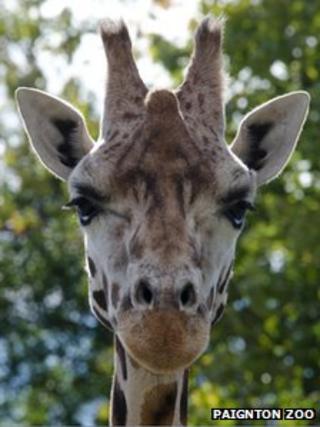 A trailer with an adjustable roof has been used to move a 14ft (4.3m) giraffe from a zoo in Devon.
Tonda, a three-year-old adult male Rothschild's giraffe, is leaving Paignton Zoo to go to Chessington Zoo in Surrey.
With two calves born at Paignton last year, Tonda has been moved on so the zoo can manage its growing herd.
"I'm sure he will take the move in his stride," curator of mammals and operations director Neil Bemment said.
"He may breed at Chessington in the future, but for the time being he will form a small bachelor group with two other young males."
Food 'lure'
The "removal" firm in charge of the 200-mile (322km) journey to Chessington, was a Dutch company which specialises in moving animals.
"The man who got Tonda into the trailer today moved 35 giraffes last year, so he knows exactly what he's doing," zoo spokesman Phil Knowling told BBC News.
"We didn't sedate him - because the last thing you want is a woozy giraffe in case he falls over - all we had to do was lure him into the trailer with a bit of green food."
With less than 700 animals left in the wild, the International Union for Conservation of Nature added Rothschild's giraffes to the "red" endangered list in 2010.