Dartmoor Prison 'major problems' with drugs and alcohol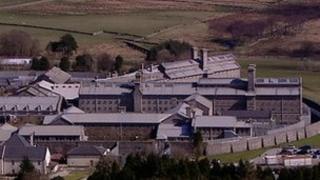 Illegal brewing of alcohol and the use of drugs were "major problems" at Dartmoor Prison in 2012, a report said.
The report said it was also concerned some issues previously raised, including healthcare, had not significantly improved.
But the Independent Monitoring Board for Dartmoor Prison, which produced the report, acknowledged it was considered safe with low rates of violence.
The Ministry of Justice said the report would be fully considered by ministers.
Workplace shortage
The board said the use alcohol and of drugs had become major problems in the "latter part of 2012".
It admitted that dealing with alcohol and drug use was an "ongoing battle", and cell searches and drug testing had played a part in reducing the amount of drugs in the prison.
The board said it was concerned an issue with a shortage of workplaces, which was previously raised, had still had not significantly improved.
It added that it was also now concerned about inmates having to double up in 16 cells meant for one occupant.
Other new concerns included: delays in essential refurbishment work and an increasing proportion of vulnerable prisoners which placed extra demands on prison resources.
Prison improvement campaigners said they believed the Devon jail would eventually have to close because the building could not be brought up to modern standards, no matter what improvements were carried out.
Juliet Lyons, director of the Prison Reform Trust, said: "Eventually it probably should be a heritage museum, showing how prison and imprisonment were done in previous years.
"It's difficult to see how, even despite good management, the fabric of the building is ever going to be adequate for a modern prison service."
The Ministry of Justice said: "The report by the Independent Monitoring Board at HMP Dartmoor, in particular the concerns highlighted by them, will be fully considered by ministers and we will respond in due course."
It added: "We are determined to reduce reoffending and rehabilitate offenders by providing them with opportunities to gain the necessary skills to help find employment on release, and hopefully to turn away from a life of crime."
The Category C prison, currently able to hold 653 inmates, was originally built in 1809 to hold French and American prisoners of war.