Exeter parking charges could rise as income hits £3.1m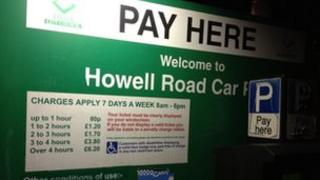 Parking charges could go up in Exeter under plans put forward by the Devon council that makes the most money from parking.
Exeter City Council said it planned to raise charges in some car parks in a bid to make the system "simpler".
In the year to April 2012, the council received £3.1m from parking, 38% up on the year before, according to a report.
The Labour-controlled council said it needed to raise charges to keep council tax low.
Councils in Devon made more than £14m in parking charges in 2012 and Exeter topped the list, according to the Institute of Advanced Motorists (IAM).
The authority said funding from the government had been cut by 27% over the past four years.
Rachel Sutton, the councillor responsible for transport, said "Because we own our car parks it helps us keep our council tax low.
"We need to make our assets work like all businesses."
The council is considering a shake-up of its parking charges, which could mean nine car parks having charges increased.
It said under its proposals seven car parks would have lower tariffs and 10 would remain unchanged.
Ms Sutton said she knew it would not be popular but businesses needed more footfall.
"That doesn't happen if the car parks are full all day with people who are working in the city and the people who want to shop can't make it," she said.