Scott centenary trek: Henry Evans reaches South Pole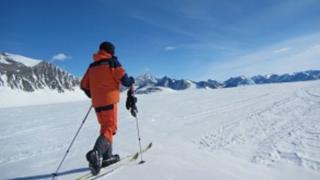 A Plymouth University marine biology graduate has trekked to the South Pole in memory of Capt Robert Falcon Scott.
Henry Evans, 22, from Saffron Walden in Essex, was selected in 2011 for the International Scott Centenary Expedition (ISCE).
Mr Evans trekked 140 miles (225km) over 14 days - a similar distance to rescuers searching for Scott and his companions in 1912.
All five in Scott's party died in the bid to be the first to reach the pole.
When the British Terra Nova Expedition - Capt Scott, Edward Wilson, Henry Bowers, Lawrence Oates and Edgar Evans - reached the pole, they found a Norwegian flag planted by a rival team led by Roald Amundsen.
They ran out of food during their return from the pole and perished.
Mr Evans, who completed the trek with polar guide Geoff Somers on 5 January, maintained a strict fitness regime for more than a year before the trek to ensure he was fit enough.
He said: "The aim of the whole expedition was to promote the legacy of Captain Scott who, of course, was from Plymouth. It's really to try and tell everyone about what he did and how brave his expedition was and I really do feel closer to him now."
On Christmas Day, "in one of the coldest and most remote places on earth" Mr Evans and Mr Somers skied for six hours in a temperature of -21C.
"I found the last hour incredibly difficult but battled through it," Mr Evans told BBC News.
"I spent the hours skiing with Christmas carols - mainly the classics like Jingle Bells and Walking in the Air, but an hour was taken up with a Justin Bieber song getting stuck in my head which, although driving me mad, diverted my focus away from the skiing."
Christmas dinner, he said, consisted of prawn noodles, biscuits and a "really tasty" freeze-dried shepherd's pie.
Mr Evans said that after trekking 120 miles across the South Pole his first shower in two weeks was an "absolutely incredible experience" and "made me feel human again".
He will celebrate his 23rd birthday on 11 January with a small cake he packed before leaving home and will return to the UK on 20 January.