Devon volunteer blood delivery bikers in cash crisis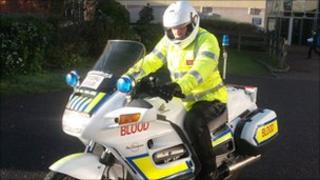 Volunteer motorcyclists who deliver blood stocks out of hours are forking out for their own fuel because of a shortage of funds.
The Devon Freewheelers operate nine motorbikes in the county with an average of 16 calls a night to transport blood to hospitals.
Volunteers are now paying for petrol because of a spike in costs and donations drying up in wet weather.
Each bike costs £15,000 a year to run in fuel, tyres and other expenses.
Charity founder Daniel Lavery said: "November and December was an absolute washout.
'Hand to mouth'
"Most of our fundraising events were cancelled or were very poorly attended because of the weather."
In the week before Christmas, one of the volunteer bikers was involved in a hit and run crash in north Devon, writing off the bike and his protective equipment.
Mr Lavery said: "With the loss of the machine, a couple of thousand pounds worth of rider's gear, along with major overhauls of other bikes which cost us the best part of £2,000, our slush fund just evaporated very quickly.
"We have fuel cards, but the guys have been putting the fuel in their tank themselves to get out of this situation."
Mr Lavery set up the charity after his wife needed a blood transfusion.
He said further fundraising events were being planned but the charity needed help from sponsors.
"We desperately need funds to keep going as we are literally surviving hand to mouth.
"We know our service makes a difference. Getting blood or organs to a seriously ill patient on time can make the difference between survival or death."