Rise in Exeter Cathedral Christmas service attendance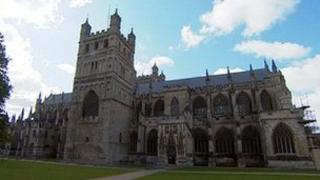 More than 20,000 people attended Exeter Cathedral's Christmas services and concerts in 2012, a rise of more than 8% on the previous year.
The events included Christmas Eve and Christmas Day services, and lunchtime carols for shoppers and workers.
It also hosted services for businesses in the community including Devon and Somerset Fire and Rescue Service.
The Very Reverend Jonathan Draper said he hoped attendance at the cathedral would increase each year.
He said: "It was great to see so many people seeking out their cathedral to attend a service this Christmas, and shows that for so many of us, God is still at the heart of our Christmas."