Men questioned in Devon on terror offences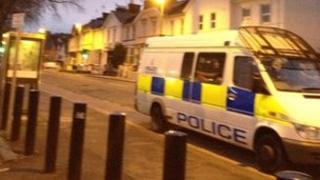 Two men arrested on suspicion of terrorist offences in a Devon town remain in custody.
The men aged 18 and 20, were arrested on Thursday under the Terrorism Act following the discovery of a suspect package at a house in Torquay.
They were initially arrested on suspicion of criminal damage but then re-arrested under section 41 of the Terrorism Act.
Police forensics experts are searching the house in Lymington Road.
Police said the arrests of the men from Torquay were carried out as a "precaution" and there was nothing to suggest any imminent crime or threat to any person or property.
The area, between Upton Road and Upton Hill, was closed to the public for about five hours on Thursday and reopened later, but police remain at the site.
Section 41 of the Terrorism Act 2000 allows a police officer to arrest anyone they "reasonably suspect" to be a terrorist.